As advertising budgets become scrutinized across the board, marketers look for new placement strategies that deliver predictable results and a clear return on investment (ROI). Although 62% of CMOs expect their media spend to bounce back in 2021 (Gartner), advertising will not look the same as it did before COVID-19 arrived.
During the pandemic, marketers everywhere were faced with lower budgets, yet the budget for digital marketing distribution channels remained the same or increased for more than half of businesses (CMO Survey). Why? Because digital channels, such as performance marketing, allow for better targeting and clearer attribution at a lower average cost. The pandemic has also put additional pressure on marketers to demonstrate the value their efforts produce.
The need for marketing solutions beyond traditional advertising such as print, television, and event marketing is greater than ever, as 60% of marketers look to increase the amount of marketing touchpoints and adopt channel-agnostic strategies in the coming years (Gartner).
With an increased need to deliver more with less, which requires knowing what marketing efforts are driving the most beneficial results for the business, performance marketing is becoming a more prevalent and desirable option for a wide range of businesses.
This paper discusses what you need to know about performance marketing, its benefits, and how to establish your own performance marketing program.
Read the complete white paper
Table of Contents
How does performance marketing work?
The rise of performance marketing
Why should you invest in performance marketing?
What industries succeed with performance marketing?
Choose the right performance marketing strategy
Choose the right performance marketing partner
What is Performance Marketing?
Performance marketing is a broad term that encompasses many marketing tactics. In its simplest form, performance marketing is defined as any marketing tactic that is based on performance – meaning advertisers only pay when a specific conversion action occurs.
In contrast to traditional marketing, advertisers don't merely buy advertising space and hope their target consumers see it, they buy what the advertising space produces, whether that be targeted leads, a specific number of impressions, or some other form of measurable performance. The industry generally refers to these demonstrable events as leads.
Download the complete white paper
How does performance marketing work?
In performance marketing, advertisers partner with individuals, companies, or networks who deliver qualified leads for a commission. The partners – also known as publishers or affiliates – collect this commission when they deliver leads that meet the advertiser's requirements, ensuring the advertiser only receives leads that are meaningful to their marketing goals.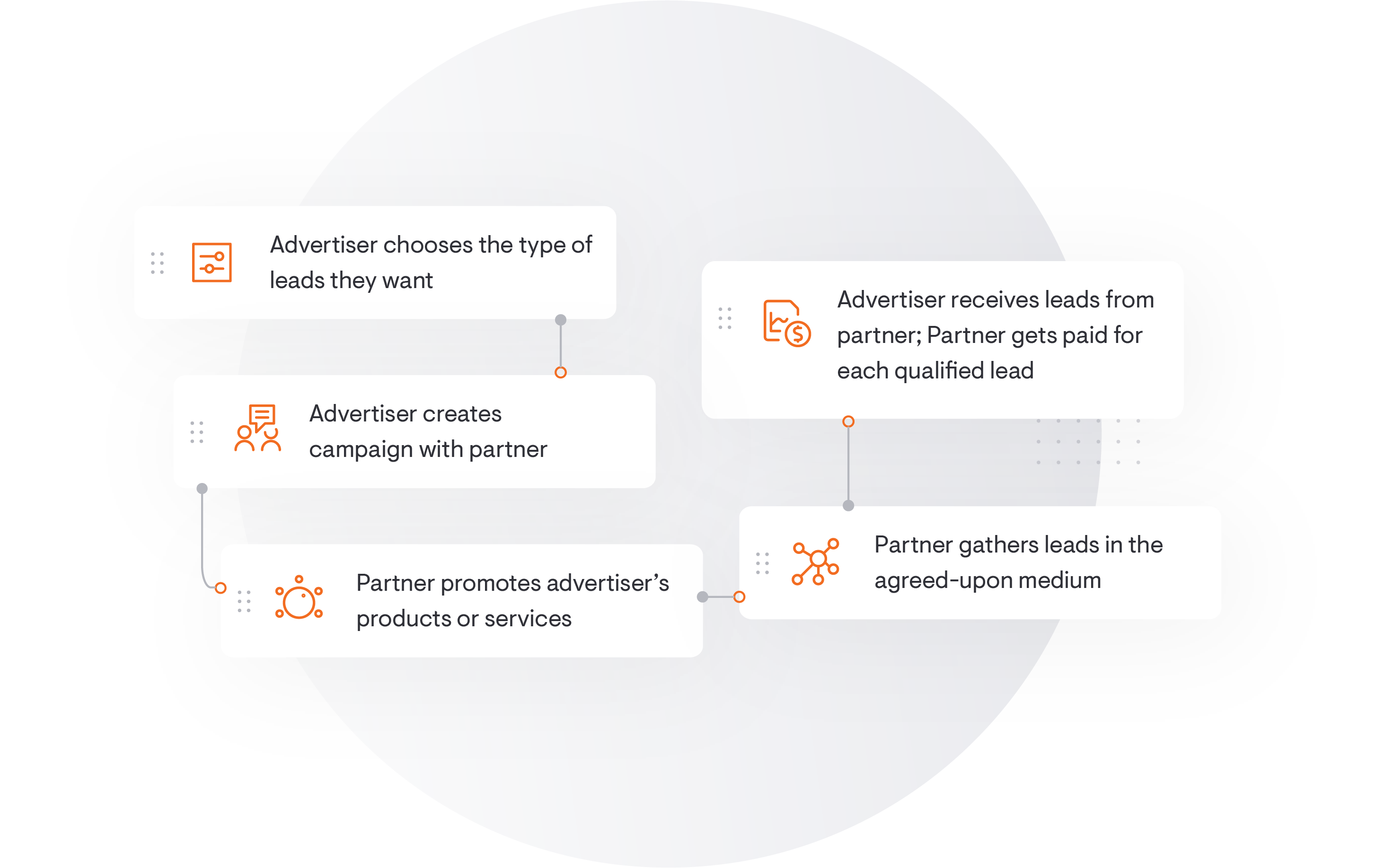 Some common forms of performance marketing "leads" include:
Pay-per-click – advertisers pay for each click to their website or landing page
Pay-per-call – advertisers pay for inbound phone calls to their business that reach a pre-determined duration
Pay-per-transfer – advertisers pay for the contact information of warm leads, usually obtained by publishers through a website that asks consumers to fill out a form
Pay-per-sale – advertisers only pay for leads that turn into sales or for sales made by the publisher's sales team on behalf of the advertiser. May also be referred to as event ads.
Pay-per-impressions – advertisers pay for the number of impressions their advertisement achieves (usually per thousand impressions)
Pay-per-video-view – advertisers pay for the number of times their video is watched
Pay-per-install – advertisers pay for leads that install their app or software
The rise of performance marketing
Traditional advertising has been on the decline for some time, and experts forecast that this trend will continue, with traditional ad budgets dropping 5% in 2021 while digital ad budgets boast a 14% increase (IAB). The shift towards digital advertising was solidified in 2020 with the global pandemic, after which 63% of consumers agreed that they will rely on digital technologies more than they did prior to the arrival of COVID-19 (Deloitte).
Marketers now look for new, creative ways to reach those digital customers. In a report about the effects of the pandemic on marketing budgets, Gartner states, "despite pandemic headwinds, there are opportunities for brands to get creative with performance marketing, including appealing to immediate consumer needs and using premium ad inventory to highlight key campaigns."
Performance marketing will be a significant component of the post-pandemic marketing landscape. Performance marketing tactics represent over $6.8 billion dollars in spend each year (Forrester and PMA), and Statista projects that American businesses will be spending $8.2 billion on performance marketing tactics by 2022.
More and more businesses – over 80% of national brands – are preferring performance marketing to traditional marketing because the results are more tangible and the ROI is more clear. Performance marketing methods also enable advertisers to scale and maximize their marketing spend on top-performing channels and gain an overall better understanding of the customer journey.
This is why, after a year of slashing advertising spend, 64% of media buyers expect to increase their spend in performance marketing in 2021 (IAB).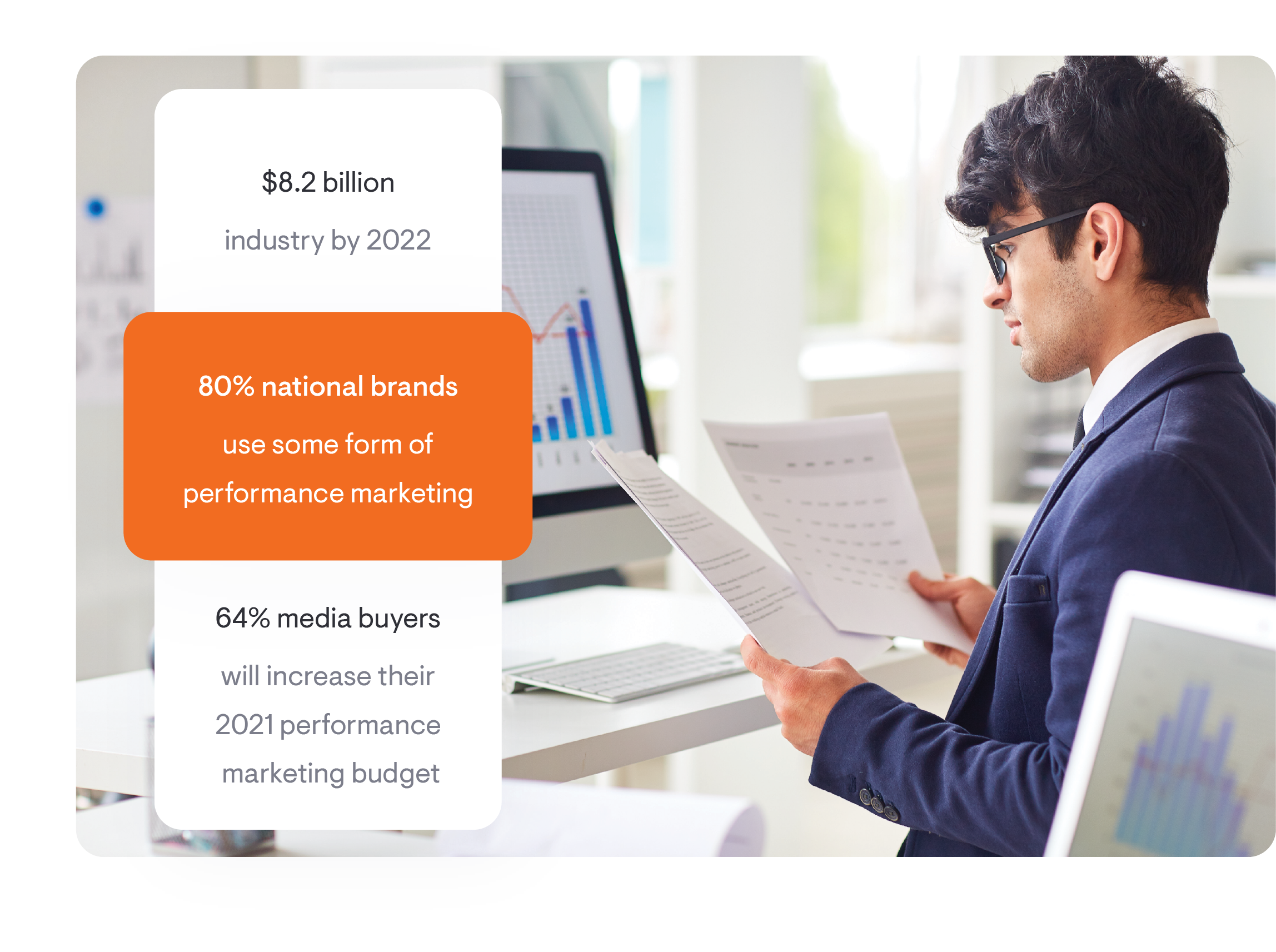 Read More: Why Performance Marketing is a Trend That's Here to Stay >
Why should you invest in performance marketing?
Measurable ROI
With performance marketing, you can easily track how many desired actions your advertising dollars produced and how many of those turned into actual sales. This allows marketers to demonstrate a clear return on ad spend and, according to a study conducted by the Performance Marketing Association (PMA) and Forrester, the average return on ad spend (ROAS) is high – 12:1 high – although ROAS varies industry to industry.
Technology-enabled targeting
Performance marketing allows you to precisely target your ideal customers. You dictate the where (geographical locations) and when (your hours of operation) of the leads you target, and you control your budget and bidding strategy. Performance marketing platforms, such as Soleo's CallThread, specify the verticals, categories, keywords and/or phrases that publishers should use to generate consumer requests that are relevant to your business so you can target the specific type of consumer you want (for example insured drivers over uninsured or homeowners over renters).
Analytics-driven campaign optimization
Because the majority of performance marketing strategies are digital, you can track your leads and optimize your lead conversion process in real time. This allows marketers to achieve a higher ROAS because conversion rates are tracked by channel and source. Since it's easier to evaluate which campaigns and publishers are delivering, spending can be shifted accordingly.
Decrease of risk
Performance marketing also takes some of the risk out of advertising since you only pay when a specific action is completed. So, even if those actions do not ultimately lead to a sale, your budget is not wasted on ad dollars trying to generate the action yourself.
Increased reach
Many publishers have developed specialized skills, processes, and niche audiences that drive highly targeted leads. With performance marketing, you can capitalize on the reach of these experts without having to build the audience or skills yourself.
Cost
When all is said and done, performance marketing is often cheaper than other forms of marketing, and your costs can be accurately projected, measured, and optimized.
What industries succeed with performance marketing?
Because performance marketing is all about generating leads, the companies that find success with performance marketing are ones that use it for direct response campaigns. Often, these are B2C companies, although some B2B companies have found success as well.
We generally recommend performance marketing to industries that sell to a national audience or service a larger geographic area. Although the success of performance marketing depends on the business, customer journey, and strategy, industries that find the most success with performance marketing include:
Retail and consumer goods
Travel
Entertainment
Insurance
Financial services
Health and wellness
Home services
Automotive
Technology/SaaS
How to Start a Successful Performance Marketing Program
Download the complete white paper
Align key decision makers
Like starting any new program or initiative, you will need to secure buy-in from all relevant stakeholders. To establish a successful performance marketing program, several teams may need to be involved:
Marketing – this is where the spending happens, so it's important to get the support from the people that own the marketing budget in your company.
Sales/Contact Center – also an important stakeholder, especially if the lead needs to talk with someone in order to close the sale.
Finance/Legal – the financial folks will need to know the costs associated with starting the program, the ongoing monthly budget, and the projected ROI. They'll also need to be aware of any laws or regulations, such as TCPA, CAN-SPAM, HIPPA, CCPA, and GDPR that might impact your performance marketing program.
Creative – the design team will need to know what creatives should be offered to affiliates and publishers. Because creatives are constantly changing, you will also need to establish a process for approving creatives that are generated internally or from affiliates.
IT – this team will need to know any changes to or additions to technology systems that will need to be made to track the program's success.
To align these teams, have a target ROAS in mind and decide the benefits of performance marketing that is most meaningful to your company's goals.
Choose the right performance marketing strategy
The right performance marketing strategy for your company depends on a number of factors including your cost-per-lead (CPL) and cost-per-acquisition (CPA) targets, the product or service you're trying to market, your target consumer, and the customer journey.
To help you decide what medium(s) will work best for you, we'll compare some of the most common leads you can buy including impressions, clicks, calls, leads from form fills, and sales/product installs by considering the following metrics:
Reach – this refers to how many leads your campaign will receive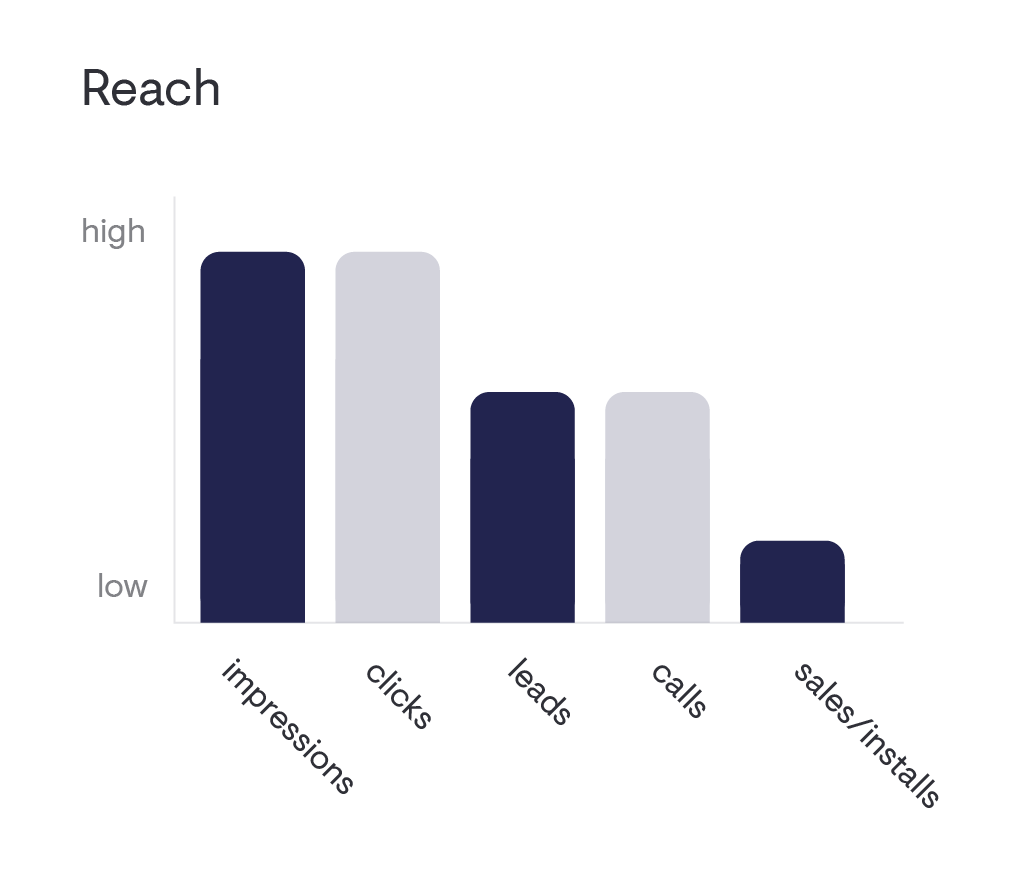 Intent – this refers to the phase of the buyer journey where low intent indicates the consumer is simply shopping around and high intent indicates they are ready to make a purchase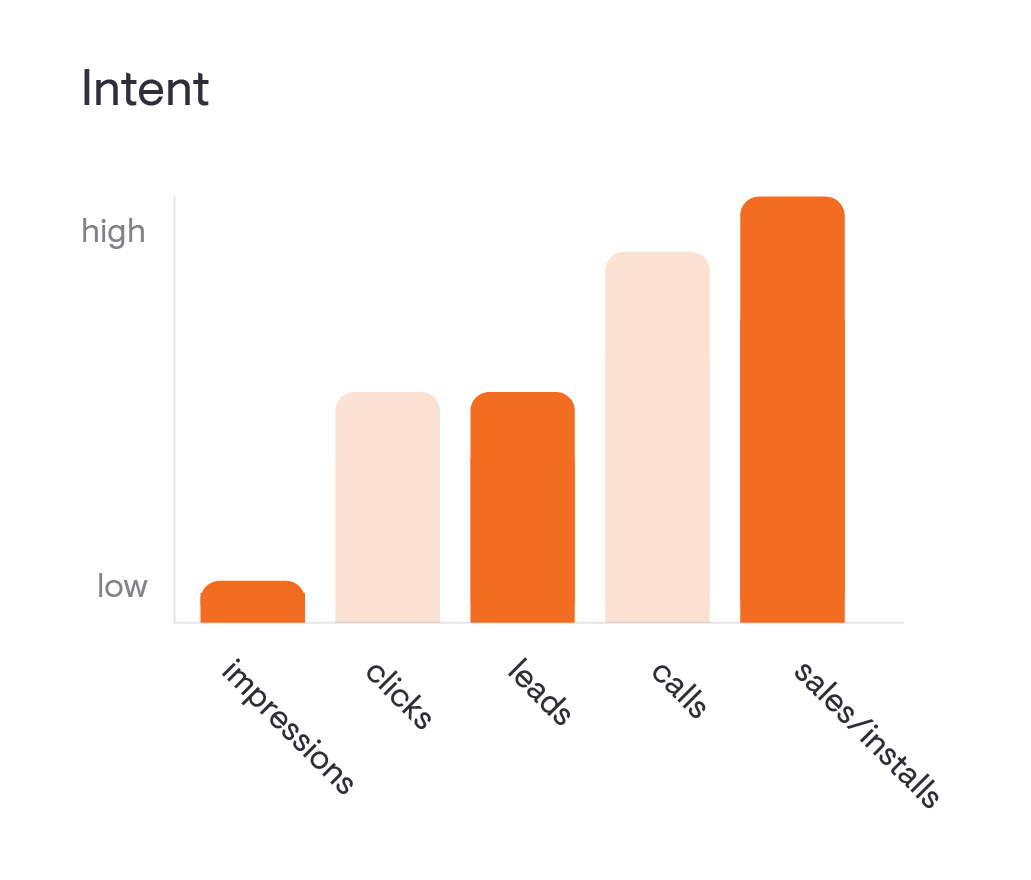 Conversion rate – this refers to how often the leads to turn into a sale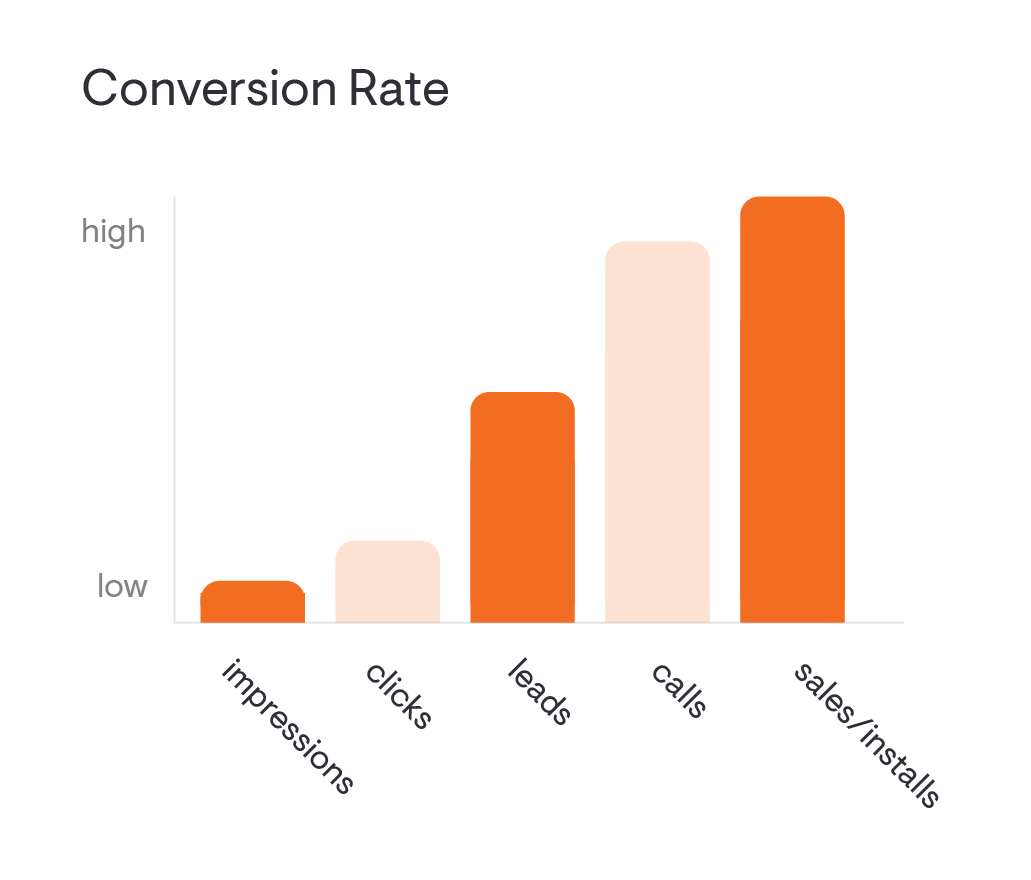 Quality – this refers to how much control you have over your lead specifications (the parameters that determine what makes a lead qualified)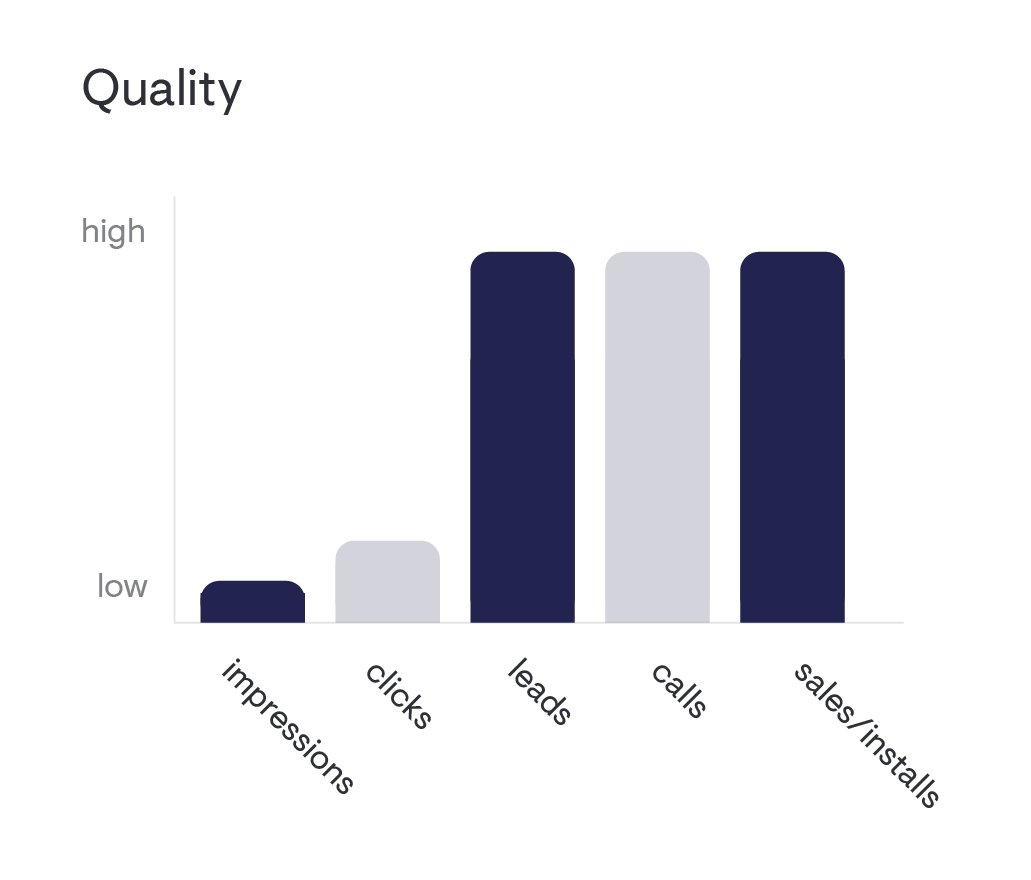 Targeting capabilities – this refers to how closely the lead matches your target consumer profile and how much you can expect to know about the lead before talking to them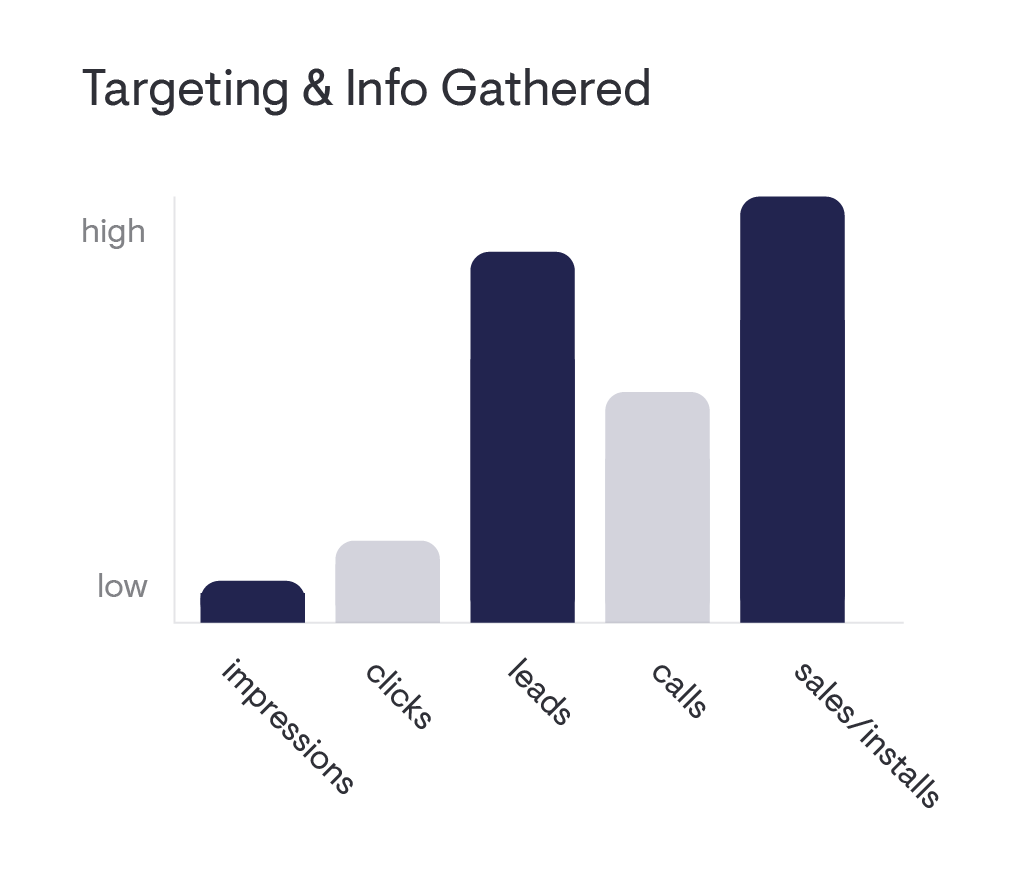 Cost – this refers to cost per lead, not necessarily cost per acquisition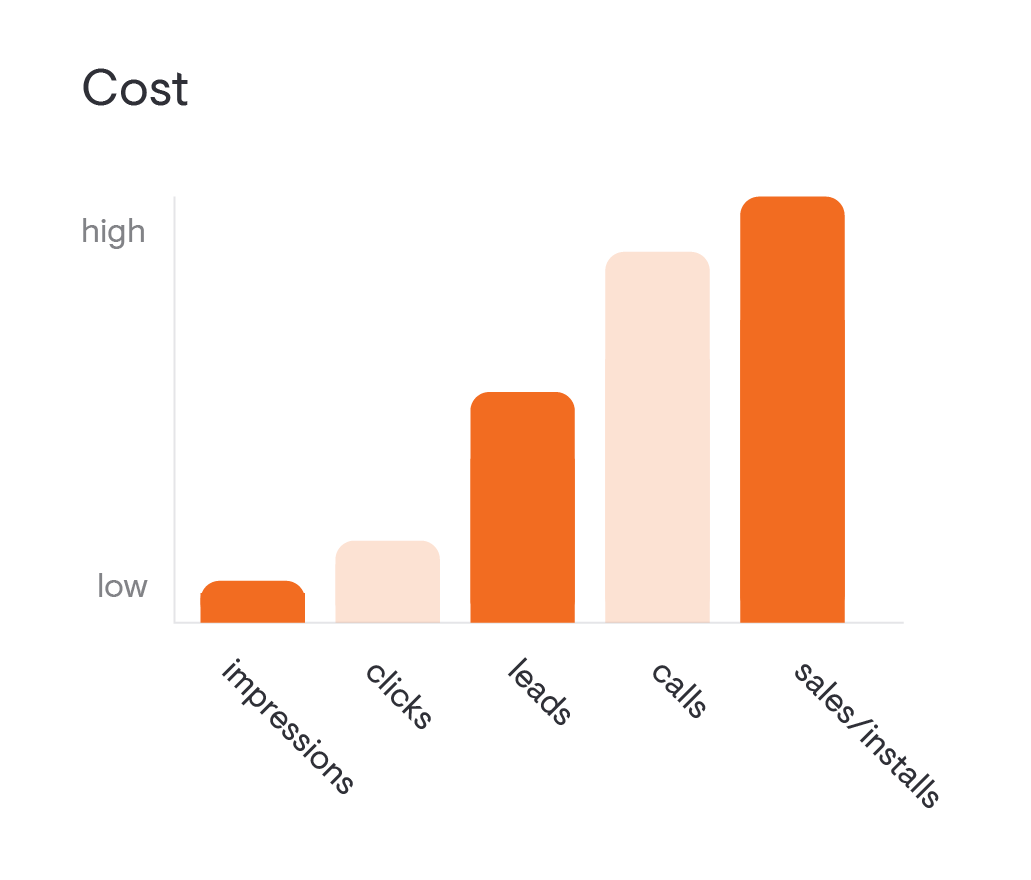 The cost and reach of the medium you want to use will also vary based on your industry and the current competition for that tactic.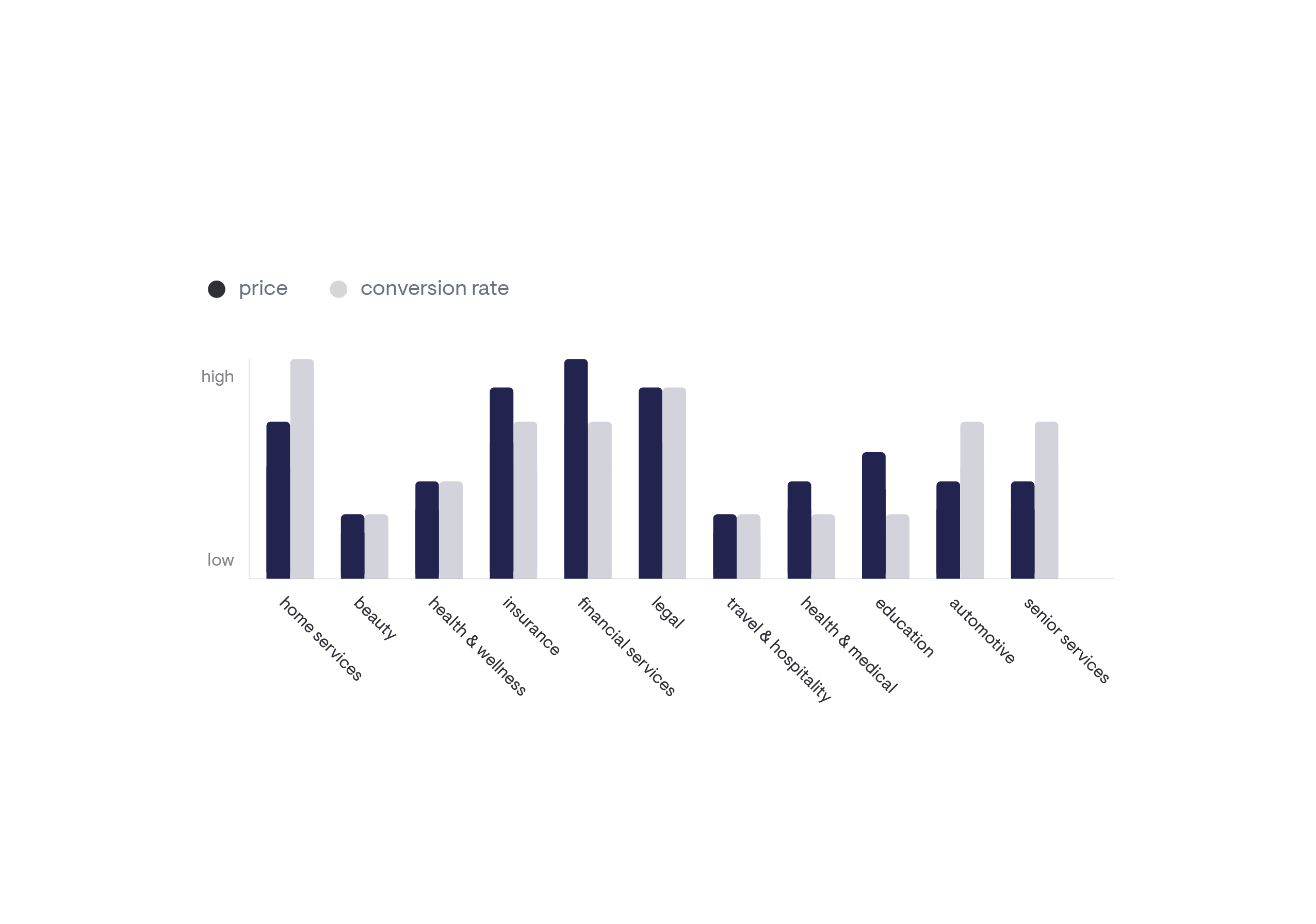 Read More: Choosing the Right Performance Marketing Strategy >
Set Your Budget
Your budget will depend on the medium you choose, your competition, and the amount you are willing to spend per lead. Most performance marketing methods use a bidding pricing model where your "bid price" is the price you are willing to pay for a lead that meets your specifications.
How to set a budget for a performance marketing campaign
Research the typical bid price for a lead that is best for your company. Platforms such as Soleo's CallThread allow you to do this. A competitive bid price may be dynamic in your industry so it's helpful to have the latest information on how the market for leads is changing.
Identify how much you are willing to pay for a qualified lead, factoring in leads that won't quite hit the mark
Identify how many leads you want
Estimate your ROI and compare your findings to your company's goals
Work with your performance marketing partner to use a smaller, test budget to see if you achieve the results you expect
Evaluate the leads and your ROAS; let your partner know if they are not meeting your CPL targets because they may be able to test and optimize their campaigns to improve lead conversion rates
Increase/decrease your budget accordingly
Helpful tip: Remember to factor in the potential costs associated with technology and tracking, personnel and resources, joining a network, and so on.
Choose the Right Performance Marketing Partner
Once you've aligned your internal team, chosen your strategy, and set your budget, it's time to look for the right performance marketing partner – the agency, network, or affiliate you want to work with to generate the leads you want.
We recommend using a network that specializes in your chosen medium. Networks work with a variety of publishers to generate leads that meet the specifications of their advertiser partners. The network takes on the burden of finding and qualifying publishers, ensuring their publishers maintain compliance to applicable laws and regulations, and paying their publishers commission for the leads they generate.
As an advertiser, working with a network gives you the reach of multiple qualified partners while you only manage, qualify, and pay commission to one lead source – which is always a great way to get the most bang for your buck, but especially makes sense for businesses who are new to performance marketing.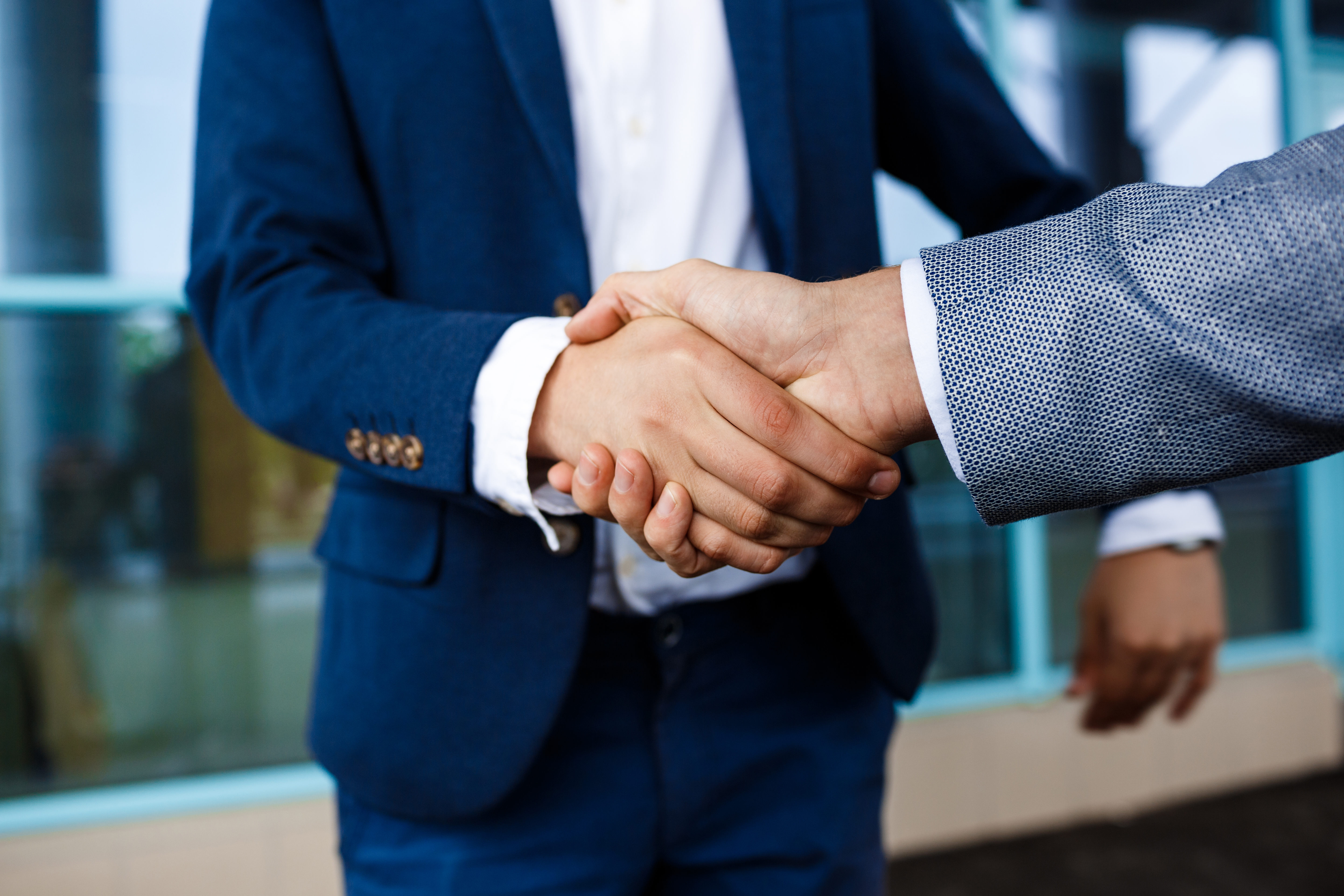 What to look for in a performance marketing network
Diversity of sources – do they have access to a wide array of publishers who use a variety of advertising channels?
Attention to compliance issues – do they have a set of network restrictions that publishers must adhere?
Dedicated support – will you have an account manager who is an expert in your chosen medium?
Quality assurance – do they have quality assurance procedures in place to ensure you get the kind of leads you want?
History of success in your industry – have they worked with similar companies to your own?
Owned platform – do they operate their own platform that gives you immediate access to results?
Establish a clear timeline
Set timeframes for how long it will take to get the necessary technology and tracking capabilities set up, to find the right publishers or network, and to begin and optimize your performance marketing efforts. According to the PMA, it takes about 6-9 months to get a program established and delivering the expected ROI, although your results will vary based on your industry and chosen medium.
Maintain the program
Once your performance marketing program is up and running, it's likely that you won't get the results you want right away. You'll need to track your leads and conversion rates and evaluate your ROAS in order to find ways to optimize your campaigns and achieve true success.
To optimize your performance marketing efforts, identify the partner and channels that deliver the most valuable leads – the leads that meet your ideal consumer profile and turn into customers – and adjust your budget allocation accordingly.
Conclusion
Performance marketing is an effective strategy for marketers who are looking to get the most out of their marketing budget. With measurable ROI, technology-driven targeting, and clear optimization paths, a performance marketing program is a welcome addition to most advertising plans.
Download the complete white paper
As an industry-leading performance marketing and technology company, Soleo helps businesses improve their entire lead buying process – from lead generation and qualification to campaign optimization. We are specialists in pay-per—call, and with nearly 20 years of experience, we have earned our reputation by building world-class platforms, maintaining the highest standards of compliance, being selective about our suppliers, and providing best-in-class customer support.
CallThread is Soleo's performance marketing platform that pairs our proprietary call management technology with our expansive pay-per-call network. The net result is a consistent volume of highly qualified inbound leads directed right to our customers. We service national brands and other businesses across a variety of categories.