With the rise in digital device use and tracking technology has come a surge in new marketing efforts and methods. One such method is performance-based marketing. This trend has emerged as a valuable technique for not only generating leads but for measuring how each individual ad performs.
With a decline in traditional forms of marketing such as print, television, and radio, it's looking like performance marketing is a trend that's here to stay, but how does it work?
How it Works
In performance marketing, an advertiser partners with an affiliate or publisher to generate qualified leads. The affiliate partner may be an individual contractor, agency, company, or network. For each lead that meets the advertiser's specific requirements, the affiliate will receive a commission.
This process can be broken down into five steps: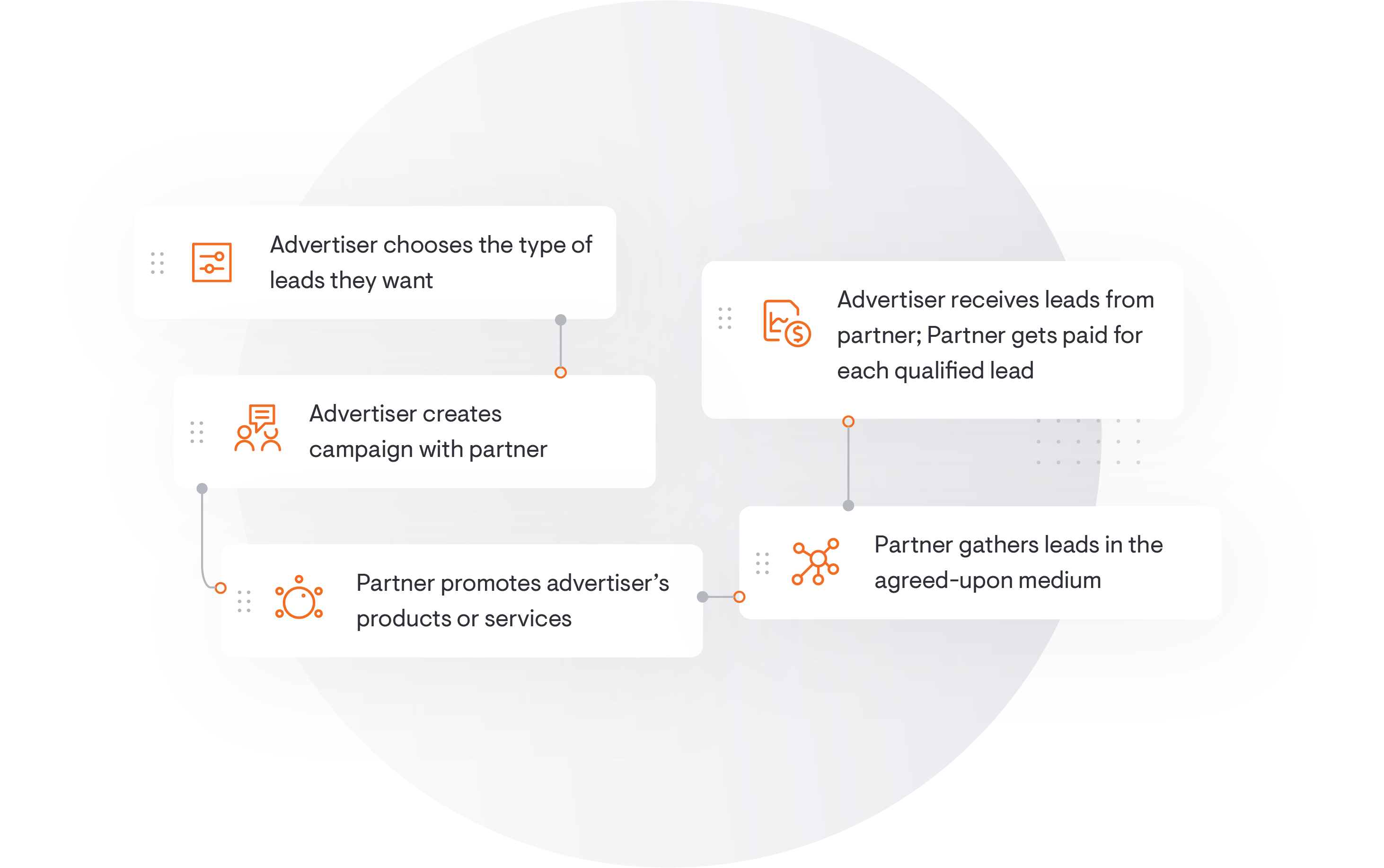 The advertiser chooses the type of leads they want.
Common types of performance marketing leads include clicks, calls, transfers, impressions, views or sales. The advertiser chooses the type of lead that will meet their business needs.
Advertisers should consider how each type of lead aligns (or does not align) with their marketing goals. Choosing the right strategy is a critical step in executing a successful performance marketing campaign.
The advertiser sets up a campaign with an affiliate partner.
Once the advertiser has identified the type of lead they want, it is time to look for an affiliate partner who has experience generating that specific type of lead and can reach the advertiser's target market. For example, if an insurance advertiser decides they want to generate call-based leads, they should look for an affiliate or network that has proven success in insurance pay-per-call. It is important for the advertiser to choose a partner who is qualified and reliable to ensure lead quality, compliance, and deliverability.
Related: Pay-per-call performance marketing has increasingly become more popular due to high conversion rates and increased revenue. Check out this free eBook that explains what pay-per-call is and how to start a campaign.
The chosen partner will then work closely with the advertiser to identify the advertiser's marketing goals and begin building a campaign. At this point in the process, the advertiser should clarify all campaign requirements and/or restrictions – such as target consumer profiles and geographic locations, marketing channels, lead qualifications, budget, and desired outcome. It is important that both parties have a mutual understanding of the factors that qualify each lead to avoid disputes later. Once complete, the advertiser and affiliate will settle on a fixed commission per qualified lead.
The partner uses their resources to promote the advertiser's products or services.
After the campaign has been set up, the partner can begin using their advertising experience and resources (such as their owned audience and/or media) to promote the advertiser's products or services. There are numerous methods and channels affiliates use to generate leads. Some of the most common include paid and organic search (SEM and SEO), paid and organic social, email marketing, display ads, tv and radio advertising, and print.
The methods and channels the affiliate uses will depend on the requests and/or restrictions set by the advertiser. Additionally, the advertiser may provide specific ad copy and creatives for the affiliate to use during the promotion. It is important for the advertiser and partner to clearly discuss these requirements at the beginning of the partnership to avoid any disputes or misunderstandings.
The partner collects leads in the agreed-upon medium and delivers them to the advertiser.

Once the campaign is up and running, the leads will (hopefully) start pouring in – whether that be in the form of clicks, calls, transfers, impressions, views, or sales.
For each qualified lead, the partner gets paid a fixed amount.

All leads delivered to the advertiser must be either qualified or disqualified based on the requirements set by the advertiser. For example, the advertiser may specify that their call leads must be inbound, last a minimum of 90 seconds, and come from a caller who is between the ages of 25 and 40. If the call meets those qualifications, the advertiser then pays the affiliate for generating the call.
Performance marketing works in such a way to ensure the advertiser only pays for leads that are meaningful to their marketing goals. If the right parameters are set, advertisers can presume that the qualified leads they receive will have a high likelihood to convert.
Sound intriguing? Find out how to start your own performance marketing program today.